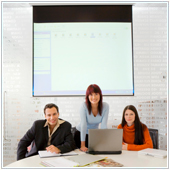 VMware is a company that has historically focused on virtualization solutions that make conducting business easier and more efficient. With the company's purchase of SlideRocket, an online presentation collaboration tool, VMware provides another valuable feature to any business. With integration with a new cloud storage app, this tool has become even more beneficial to businesses.
Google has recently released its cloud storage and collaboration app, Google Drive. What does this have to do with SlideRocket? Well, SlideRocket's full set of content authoring tools have been integrated into Google Drive. This means that users of SlideRocket can use Google Drive as another way to create, collaborate on, and store presentations.
Chuck Dietrich, Vice President of SlideRocket by VMware, commented, "Together with Google, VMware is helping individuals and businesses embrace new technologies for collaboration in the cloud era." He went on to note that SlideRocket and Google Drive provide users with a great way to do just that.
If you use SlideRocket and would like to work with other users over Google Drive, simply log into both services with the same account and in Google Drive select Create and More followed by SlideRocket. Once you log in and integrate your accounts, you'll have access to your presentations without having to log in to SlideRocket.
If you'd like to know more about how you can virtualize your business, or the different products offered by VMware, we're ready to tell you more. Let's talk virtualization.
Published with permission from TechAdvisory.org.
Source.